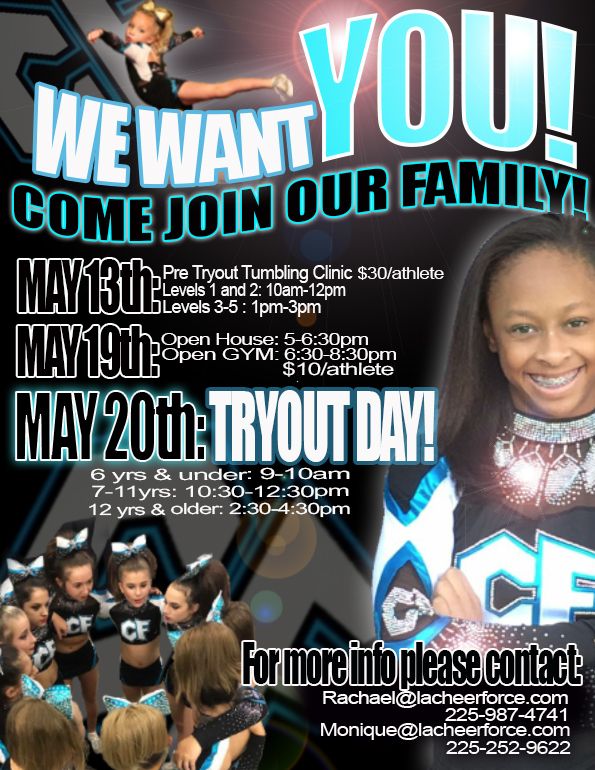 Tryout Fee(s) and Forms
$20 - Returning Competitive Athletes $30 - New Athletes
Registration for tryouts located under the section "Forms"
Bring both forms the day of tryouts along with the tryout fee
**Anyone interested in traveling to our Baton Rouge gym from New Orleans, Lake Charles, Hammond, or any of the surrounding Louisiana parishes or even Mississippi, please contact us! We do have several athletes that travel each and every year to be a part of Louisiana Cheer Force in Baton Rouge and we would love to hear from you!
Congratulations to our Small Sr. Coed Level 5 Team - Gold
2014 World's Bronze Medalist!!!
USASF MEMBER GYM AND USASF CERTIFIED INSTRUCTORS!
OUR TEAMS ARE UNIQUE, UN-LIKE ANY OTHER. OUR TEAMS COMPETE WITH POWER AND AUTHORITY YET OUR STRENGTH COMES FROM THE MODESTY AND HUMILITY OF THOSE WE COMPETE.
WORK HARD, PLAY LATER!
FOREVER A COMPETITIVE CHEERLEADER, FOREVER CF!